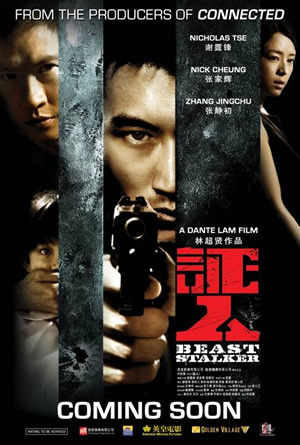 | | |
| --- | --- |
| My Rating: | |
This evening I saw the movie The Beast Stalker at UA Cinema, TimeSquare, Causeway Bay, Hong Kong. Another late addition to my Must See Movies list.
This was only my second movie (on the big screen) in over 3 weeks. Those who knows me will find this extremely unusual, as some of them say I watch almost anything. Although I disagree, but I used to watch on average 2 – 3 movies a week. That was before I returned to Hong Kong over 10 years ago, now one movie a week was typical. The reason for this recent hiatus was quite simple, I found there were nothing interesting enough to watch.
Until I came across a review of this movie in HK Magazine (Friday, Nov. 28, 2008 issue), which gave it high praises. It had been years since I last watched a Hong Kong made movie and there is really nothing American to watch at the theaters, I decided to give it a try.